Twin Fin Coconut and Lychee Rum
70cl, 38%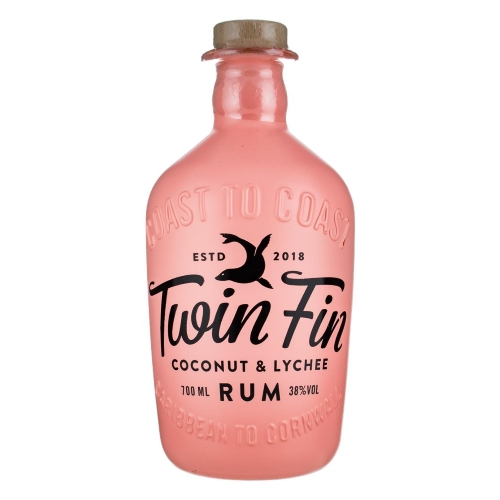 (Brought to you by the makers of Tarquin's Gin)
About this rum… in a nutshell
After the highly successful launch of the Twin Fin Spiced Rum, the distillers from Southwestern Distillery decided to put their passions into 2 more gorgeous Rums. The Twin Fin Pineapple and Pink Grapefruit Rum and the dreamy Twin Fin Coconut and Lychee Rum featured here.

Inspired by the Cornish and Caribbean shores. Twin Fin begins existence on the balmy sands of the Caribbean before sailing across the Atlantic to the craggy coast of Cornwall. The epic culmination of two years of creative exploration to create a unique rum.
The distillers at Southwestern Distillery combine two Caribbean rums: a Jamaican pot still rum and a Dominican column still rum. They then blend this with coconut and lychee at their own distillery on the unspoiled Cornish coast to create an extraordinary exotic rum with no artificial flavours or additional sugar.
Tasting Note
Twin Fin Coconut and Lychee Rum is bold and bright with beautiful notes of fresh lychee and vibrant coconut.
It is a dreamy Caribbean inspired rum with flavours such as coconut sorbet, wild fresh strawberries and juicy melon with a crisp, tart lychee finish
Why We Love It
One of the main reasons why I personally adore this rum is because it takes me right back to the Dominican Republic, lying on a sun lounger on a hot beach, partly shaded by a palm tree with the sound of the Caribbean waves lapping on the sand while I am sipping on a rum cocktail out of a fresh coconut.
For a drink to be able to evoke a very sensory memory is an absolute winner in my books!
---
Each bundle contains 2 bottles of Twin Fin Rum and 2 branded Twin Fin Tankards for free!
---