Garden Swift Dry Gin
The Cotswolds have had a long lasting influence throughout the life of Owner and Master Distiller, Barney Wilsack. 
Growing up in this most beautiful part of England, he was surrounded by lush flower meadows, ancient lily-of-the-valley scented forests historic orchards, along with the wildlife that inhabit them. 

It took Barney the best part of a decade to hone his craft, but even now, he is still learning the intricacies of distilling. He consistently strives to work in a way that celebrated directing the natural process, rather than trying to strictly control it.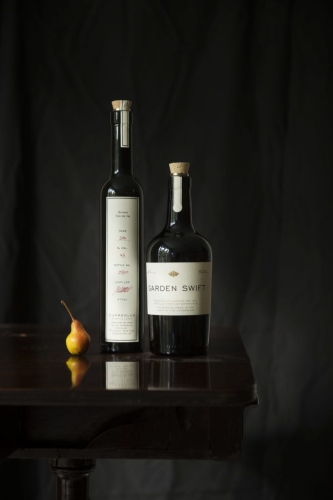 Garden Swift Dry Gin

£37.85

It's clear everywhere you look that gin is here to stay with new production companies and avid booze enthusiasts turning their hands to distilling popping up all over the world with the next best thing. So what is it about Garden Swift Dry Gin that's so unique?

This was the most important question for Barney. The thought of developing a standard gin had little appeal; as previously said, the market is already extensively stocked with them. Capreolus Distillery recognises the diversity that nature may supply with years of expertise in coaxing the aroma from a variety of fruits, flowers, and spices. Based on this understanding, an idea for the development of a gin of seamless complexity was devised.
A huge project then ensued! Incredible amounts of spices, seeds, herbs, fruits and flowers were collected and traded.
As Capreolus Distillery strictly work with a small and trusted group of local farmers, they only get fruit for our eaux de vie during the best years and at the peak of perfection, somewhat difficult logistically, but the concentration of pure essence in their eaux de vie emphasises imperfections in equal measure.
This implies that they must hand-grade and clean every berry, pear, quince, and plum.
Hundreds of individual distillation tests on all of the botanicals then began to discover which ingredients worked best when soaked within the still or placed in the path of rising vapour.
Test after test, many botanicals were discarded until they were left with a whopping 34.
The actual recipe for Garden Swift Dry Gin is a complete secret but individual examples include freshly cut Sicilian blood orange zest and blossoms from the British native little leafed lime tree, Tillia cordata (an aroma of interlaced flowers and honey).
Wild Fermentation
The wild yeasts on the fruit from these local orchards are solely responsible for the slow fermentation. A succession of diverse indigenous yeasts on each fruit not only offers their own distinct character, but also brings them closer to the area from which they emerged. Decisions are made on whether to include "noble" elements of the fruits, such as stems, stones, and pips. Rather than attempting to reproduce fake fruit flavours, they seek eaux de vie that heighten and retain the real flavours of both fruit, parent tree or plant, and the landscape in which they thrive.
Natural Cloudiness
You may have spotted the liquid itself turns a little cloudy and opaque when tonic is added. This is because the spirits from Capreolus are never chill filtered. Barney and his team respect flavour more than appearance so the natural essential oils which are visible are an indicator of the depth and flavour within.
Why We Love It
Although Garden Swift Dry Gin is on the more premium side of our gin collection and comes in a smaller 50cl bottle, it sure packs a massive flavour. Even if you haven't read through the full process above you can tell from the initial aroma on the nose that Barney has expertly pulled the very best flavour, scent and texture from each of the 34 botanicals.
I am personally a huge fan of orangey zesty, gins so I am possibly a little biased but Garden Swift Dry Gin really ticks all my boxes. Not only does it pack a huge orange punch, my other taste buds all tingle with spices, menthol, pear, cardamom, cumin and piney juniper.

A great gin, fantastically made.