Somerset has long been associated with the production of Cider, but when it comes to gin it seems under-represented as a county compared with its bordering neighbours so we were completely stoked to come across the fabulous creator Gin Jar, he's young, cool and has a great attitude to life and living it to the full.
Chris Jefferies is founder and owner of Gin Jar and as the name suggests is in fact a red head. The relevance? Well, clearly his colouring is the inspiration for the name of his company but it goes further than that as all of his products are adorned with a bright orange wax to seal the stopper and his main Gin is called 'Chromosome 16' which is the chromosome found in genes of red heads. Chromosome 16 suppresses black melanin, instead allowing red and yellow melanin which of course is likely to result in varying forms of ginger colouring.
Having said all that, I was determined to discover for myself if the gin is in fact a gimmick. I can report that all of his Gin's are great and a sign of Chris's fun personality. He is the first to admit that while he is very serious about his business and creating wonderful spirits he ensures that he makes time for his other passions which include skateboarding, surfing, mountain biking and snowboarding as the work lifestyle balance is a priority to him.
There are six styles in the Gin Jar range all based around their main product 'Chromosome 16' which is a classic London Dry Gin with a smooth palate and plenty of aromatic spice especially coriander seed which I love to taste. The other five gins are expertly infused with varying flavours, the Burnt Orange is an absolute hit as it has an obvious but delicate taste of cooked orange zest. I've tasted a few smoked gins recently but Chris's version is my favourite so far as it still tastes like a gin rather than bordering on a peaty whiskey, this would also make a great base for a dirty martini.
Caught unawares with the Chili Gin I dived straight in (I'm not afraid of a little spice), my initial reaction was very pleasant and very obviously Chili, then bang! The heat really kicked in and my eyes widened like an owl on double espressos, but the sensation on the tongue was amazing. Chris clearly couldn't resist a ginger infusion which he teams up with rhubarb which is clean and not overly sweet but enough sugar to soften the sourness of the rhubarb. A clear winner in my eyes is the elderflower Gin, vibrant and fresh and a reminder of summer.
Featured Product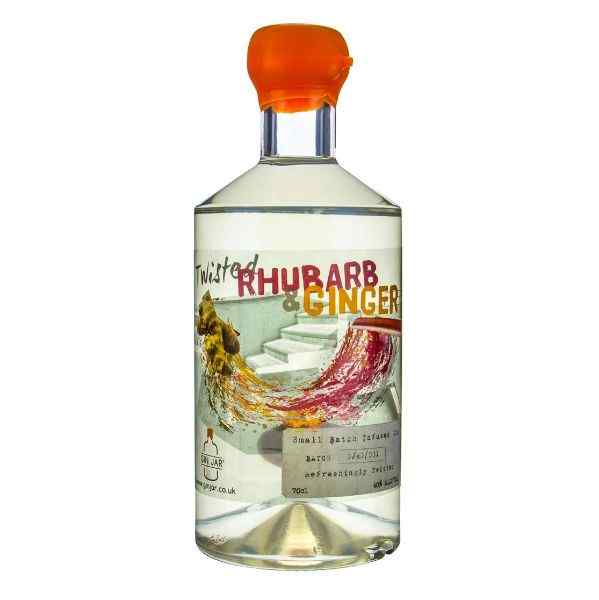 Gin Jar Rhubarb and Ginger Gin
70cl, 40%
Red-headed distiller, Chris, at Gin Jar ltd steeps fresh, tart rhubarb and spicy ginger in his classic London Dry style C16 gin to create this tantalising Gin Jar Rhubarb and Ginger gin.
Tasting Note
Chris's flavour combination releases a crisp, fresh rhubarb edge with a warming spice of ginger on the tongue.
Scroll for more great Gin Jar products!