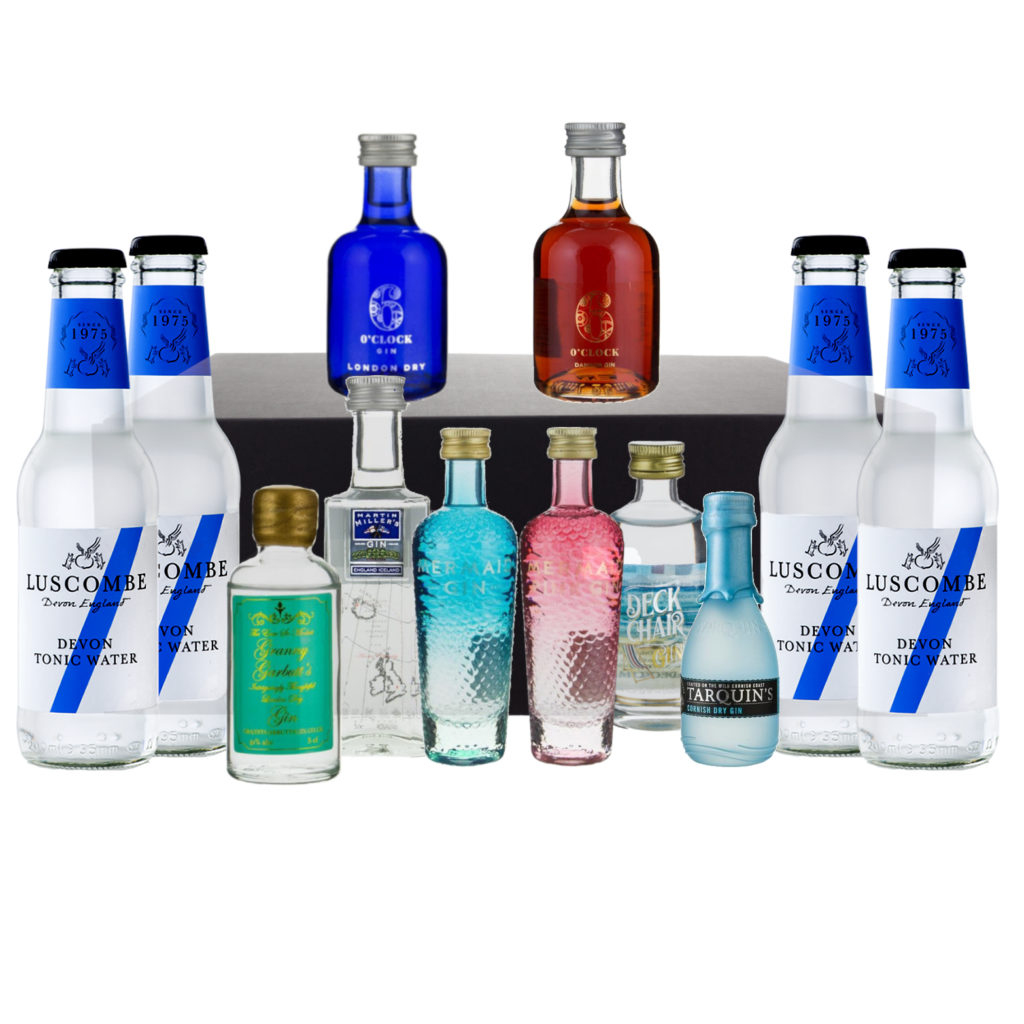 The Gin & Tonic Hamper
Rusty HQ have created something epic for the gin lovers.
Each fabulous Gin & Tonic Hamper includes;
Granny Garbutt's Gin
5cl
Exeter
Using inspiration from the Yorkshire Moors, this herbaceous and floral gin uses botanicals such as heather, hibiscus, and marigold with coriander, angelica and orris root.
Martin Millers
5cl
London
Being an avid traveller, Mr Miller sourced ingredients from all over the world to craft his perfect gin including juniper, coriander, angelica root, orange peel, lemon Peel, lime oil, orris root, cassia bark, ground nutmeg, liquorice and cucumber distillate. 
6 O'Clock London Dry
5cl
Bristol
This London dry style gin offers a wonderfully traditional juniper and citrus character with lovely notes of elderflower all wonderfully presented in their bespoke, classic, Bristol-blue bottle.

6 O'Clock Damson Gin
5cl
Bristol
This is serious stuff at 40% Hand-picked British damsons are slowly steeped in the gorgeous 6 O' Clock Gin with a little sugar resulting in a wow flavoured Gin that really packs a punch. 
Deck Chair Gin
5cl
Brixham
Using a handmade glass vacuum still, the neutral spirit and clotted cream mix blends perfectly to create a velvety richness, not found in other gins.
Mermaid Pink Gin
5cl
UK
Aromatic and refreshing, Mermaid Pink Gin infuses the flavour of fresh Island strawberries with the smooth yet complex taste of the award-winning Mermaid Gin, a blend of lemon zest, grains of paradise and fragrant rock samphire.
Mermaid Gin
5cl
UK
Hand-crafted using ten ethically sourced botanicals, Mermaid Gin delivers a smooth yet complex blend of fresh organic lemon zest and peppery grains of paradise, with a hint of sea air from locally foraged, fragrant rock samphire.
Tarquin's Dry Gin
5cl
UK
11 botanicals from all around the world are added to the stills to be macerated overnight in a neutral grain spirit before finally adding violets in the morning. This process creates a fresh, piney gin with lemon sherbet notes, a touch of eastern spice and a lingering floral complexity.
Luscombe Devon Tonic
4 x 20cl
UK
Rare Japanese yuzu pairs with Devon spring water and the distinctive taste of Indian quinine to create a classic tonic.
£40.43
In stock