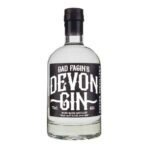 Bad Fagin's Devon Gin 70cl 43%
This zesty gin used to be made in the rafters above Hamish Lothian's pub in Central Exeter. He not only opened the UK's first commercial micro-distillery, he also distilled Exeter's very first gin. Increasing popularity lead to Hamish needing to expand his distillery into a new venue called "The Sample Room" between the railway arches in an area of Exeter called St Thomas.
Known locally as Bad Fagin's Devon Gin, Hamish has developed a luscious, orangey and spicy gin with a warm, smooth finish.
£34.07
Out of stock